Greg's Story of Surprising Dad
the Weekend of the Art Showing
When the date for the exhibit was first set, I told my father that I regrettably would not be able to make the 3,000 mile flight from San Francisco to Salisbury — he understood especially given that I had just moved to California to start a new job at Google three months earlier. Unbeknownst to him, I actually was planning on returning home for the weekend — it was to be a surprise!
On the eve of the exhibit, I called dad around 10pm EDT, the usual time I'd call him before going to eat dinner at 7pm PDT. We talked nonchalantly, me wishing him luck the next day at the showing. What he didn't know, was that I was calling from my mobile phone at his front door while he sat across his home in Diana's kitchen.
Midway through the conversation, I knocked on his front door. Louder I knocked. He continued chatting, not hearing my pounding on the door. Finally, I relented: "Dad, I think I hear someone knocking on your front door," I said. He was confused, not comprehending how I could hear the knocking over the phone when he didn't hear it himself. I ultimately had to flat-out exclaim: "Dad, I'm here in Salisbury, at your front door, can you answer the door?"
– Greg Badros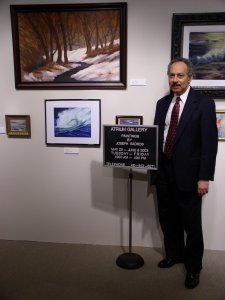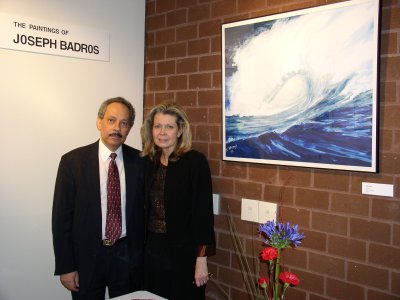 See the paintings from the exhibit.
Back to Joseph Z. Badros Home Page
---
Web page constructed by Greg J. Badros, mail me at